Build a web standards-based website with Dreamweaver 8
Those Sitepoint people really got moving with this book. It must be one of the quickest publications ever. Dreamweaver 8 was released and hot on its heels came this book telling us all how to get the best from it – and build a web standards compliant website in the process!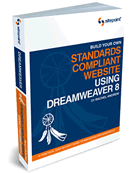 Download FREE chapters – Click the image to download [opens in new window]


Nice going guys!
Related Posts