Choosing a WordPress theme for the Genesis framework
I wrote this post a while back. The content can still be relevant but the information I've linked to may not be available.
I've been assessing several WordPress themes as starting points for my web design and development projects. I've written about why I want to work with WordPress and with Perch CMS and I need to be able to offer a WordPress theme customisation service for projects that fit my requirements for WordPress.
I've decided to focus on the Genesis framework by StudioPress for all my WordPress projects so any themes need to be child themes of Genesis.
Why use a theme at all?

I've been thinking about my freelancing business. Ideally, if I want to grow it in my target SME market, I need to be able to turnover several new web design builds every month (or raise my prices quite considerably). Customising a WordPress theme is how I intend to achieve that. The theme will be customised to the client's requirements and project specification and, whilst it won't give a completely original design and build, it will still look fantastic and work great .

You might argue that customising a theme will be more work than starting from fresh. In my experience, that's not the case.
Of course, all 'starter' child themes have features that I can code myself. However, what I want on some projects is a quicker way of doing this. If the budget is tight and I have limited time to work on a new site, I need to be able to do things more quickly.
For example, I don't want to build the responsive elements of the site from scratch. Instead, I want to be able to edit and test the responsive aspects of the site based on a theme's RWD implementation. Perhaps that gives me less absolute control over the site code but that's OK if budget and time are restricted.
So, here are three themes that I've used and that I'm assessing for future projects.
Flex Pro Theme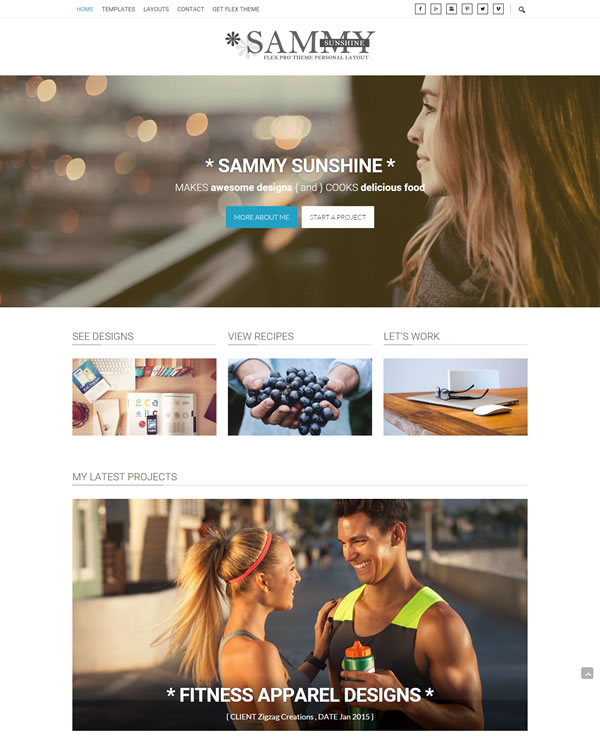 The most important aspect of any theme for me is not what it looks like but how it can be customised. I want to be able to change layouts (boxed, full width) and move page elements around with minimal fuss. Additionally, I don't want to rely on plugins for this if I can avoid it. The Flex Pro theme from SimplePro Themes appears to fit those criteria and it has a lot of customisation options.
True to its name, Flex theme offer lot of flexibility to showcase website content in variety of practical layouts.
I'm planning to set-up a couple of demo/test sites to explore the theme in more depth.
Update: I'm very happy with the Flex Pro theme. It's excellent! Buy it here.
Utility Pro Theme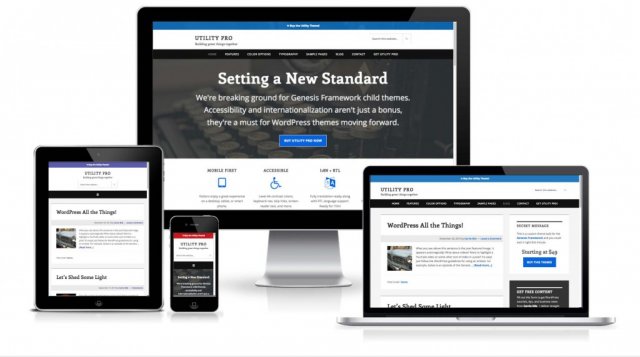 The Utility Pro theme is also on my radar. It's a mobile first theme and a lot of work has been done on the accessibility and internationalisation aspects of the theme. Nice one!
We're breaking ground for Genesis child themes. Accessibility and internationalization aren't just a bonus, they're a must for WordPress themes moving forward
The theme also has a very useful Utility Bar widget area which means you can add content (for example, a message or contact details) at the top of the page.
Note: I'm an affiliate for the Utility Pro theme but the reason I signed up was that I want to use the theme myself.
Genesis Starter Theme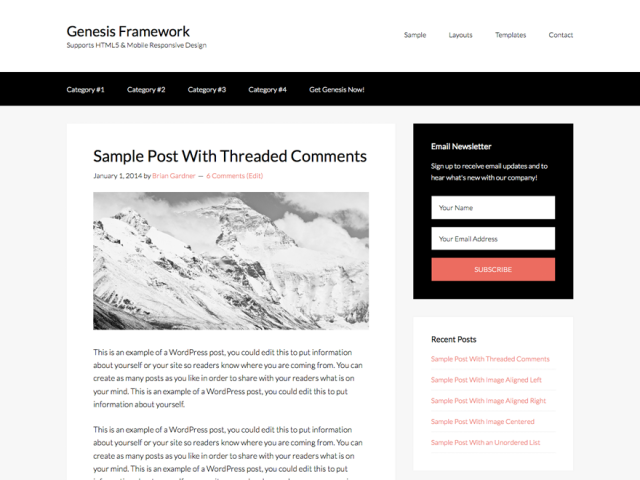 If you want the ability to customise more of the theme, or code your own theme, the Genesis Starter theme could be the place to start. I've used it on a couple of projects and it's a great way of learning more about child themes and the Genesis framework. It's a more 'barebones' approach to a new site than using the Utility Pro or Flex Pro themes but that could be better in some cases.
Also, check out Sridhar Katakam's version of the Genesis Starter theme because it has some great modifications.
Summary
Of course, the StudioPress child themes themselves are fantastic for developing a new site. To complement these, the themes in this post offer different starting points for my projects. I'm planning to start at least one project using one of these in the next week.
Affiliate Link: Buy the Utility Pro theme.