Just Holiday Nannies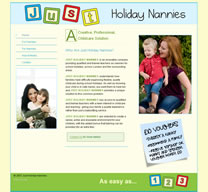 Just Holiday Nannies provides qualified and trainee teachers as nannies for families in London and the South East of England, including Sussex and Surrey, during school holidays.
The business acts as an intermediary between nannies and families. Potential nannies can register their availability for work while familes can register to find the perfect nanny for their requirements.
PS: We're really pleased with how the website turned out...