SAMS Teach Yourself SQL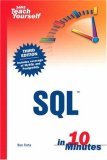 One book that I pick up on a regular basis when I am in database development mode is SAMS Teach Yourself SQL. It claims to be able to give you all the SQL skills you need in 10 minutes. Whilst that may not be quite true, I find that the book is really useful as a quick refresher when I have not been database querying for some time.
OK. It's a beginners book but the simplicity and readability of the book means that is is easy to find information about SQL syntax just when you need it, whether it is a simple table join or working with database views.
I have other, perhaps more comprehensive, books about databases and SQL, but for usability and getting the job done, SAMS Teach Yourself SQL is tough to beat in my opinion.