Sell T-shirts online
There are several websites that provide the means to design, print, and sell T-shirts online with the minimum of fuss. My vote goes to Spreadshirt [affiliate link] who are relative newcomers to the online T-shirt scene [at least in the UK]. The Spreadshirt
website is clean and attractive and makes it easy to sign-up for an account.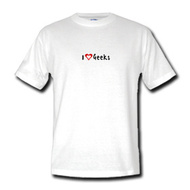 Once signed up, it is possible to start selling T-shirts online within a few minutes if you stick with the default set-up and use the designs that are provided or if you just want a text slogan on your T-shirt. Of course, you will probably want to customise the shop with your own header and/or upload your own designs. That will take a bit longer but the admin control panel is simple to use.
Pictured right: I Love Geeks T shirt
A Flash-based product control panel enables you to combine a wide range of products [different T-shirts styles, for example] with different designs and with text. Product options can also be added. This is one example where Flash really provides a big advantage in terms of ease of use.
For each product created, you have the ability to set prices above a specific base price. When a T-shirt is sold, you receive the difference in price and Spreadshirt gets the rest. Admitttedly, this means that you receive less than Spreadshirt in most cases but they do all the work by taking payments, manufacturing, and shipping the T-shirts. Fair exchange.
There's a lot more to Spreadshirt including a marketplace. If you want to design and sell your own T-shirts, I think Spreadshirt works really well.
Here's my favourite Spreadshirt shop » Get Emotional.