Spanish Horses website collaboration
The Spanish Horses.net website was recently completed and the project illustrated the benefits of collaboration when there is a tight deadline for website launch.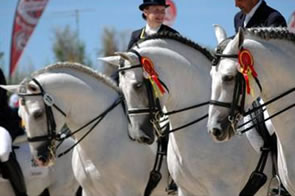 In this case, the website needed to be ready within a couple of weeks. It needed to include a PHP content management system for client website updates and a database of 'product' (horse) information. Several different layout designs needed to be reviewed and agreed.
Who does what
The work was split between CVW Web Design and Double 6. Oh yes. The client had some input as well ;-)
CVW – Initial layouts, CSS and PHP coding for frontend/backend
Double 6 – CMS backend, database set-up, data entry and website pages
Client – website information and website feedback
Lessons learnt
It's always good to look back at these kinds of projects and come up with a few 'lessons' for next time.
Be prepared to change layouts and design at short notice.
Rapid application development needed. In this case, Dreamweaver was very efficient at creating the basic PHP code.
It's a great advantage to have a user-friendly CMS system ready to go with minimal customisation needed.
As in most collaborations, all parties need to compromise at various stages of the process.
Different skills contribute to quick development.
In conclusion
It's fair to say that if the project had been completed by either CVW Web Design or Double 6 on their own, the website might have turned out different. However, the overriding principles that operated here were the client's requirements (of course) and the deadline.
The website was launched on time and the client's business has been jump-started.