Validate HTML with a Firefox extension
I wrote this post a while back. The content can still be relevant but the information I've linked to may not be available.
Have you ever wanted to validate your HTML whilst previewing web pages on your PC? Are you curious about the HTML validity of other websites? Now you can do both using a Firefox extension.
One of the things we love about Firefox are its third-party extensions which enable you to do all sorts of useful things whilst browsing. Our current favourite extension is the HTML validator extension which is based on the HTML Tidy programme. It puts the power of HTML Tidy into Firefox.
The extension works automatically as you view pages which makes it a cinch to use. It finds HTML errors and classifies them into three categories:
errors:

HTML

errors. Normally requires extra work to fix these
warnings:

HTML

errors that Tidy can fix automatically
(optional) accessibility warnings based on priority levels defined in W3C

WAI
Any errors are explained in an easy-to-understand way which makes corrections very easy. In fact, another advantage is that this extension can apply the corrections itself and clean-up pages.
Use the extension on a regular basis and you will improve your own skills and knowledge. It's great to see the green tick icon for your own pages!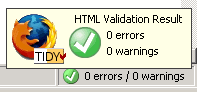 It's also quite an educational process to check-out how many other websites validate correctly (ahem).