Browser statistics and Internet Explorer 6 usage
I wrote this post a while back. The content can still be relevant but the information I've linked to may not be available.
Six months ago, I collated browser usage statistics for a personal website and reported that Internet Explorer 6 hangs on. I have repeated the exercise for the six months ending 10th December 2008 and here's my update. The overall summary is that IE6 usage is still quite high and is only showing a slow decline.
Firstly, the website in question gets about 5000 unique visitors per month so I am not claiming that these figures are in any way representative of general usage. However, I am using the figures to try and assess when I can start adding some advanced CSS methods to this [and other] websites.
Note: All the figures were obtained using Google Analytics.
Overall, as expected, Internet Explorer is the most popular browser with 79.5% [a slight decline compared with six months ago], followed by Firefox with 13.6% [a small increase], and then Safari with nearly 5%. Google Chrome usage is not significant yet but that's unsurprising because it was only released in the middle of my six-month period.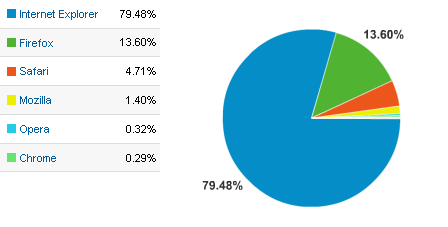 For Internet Explorer versions, the IE6 usage shows a decrease from 38.8% last time to 32.1% now. IE7 usage has increased from 61% to 67.6% [almost the same as the decline in IE6].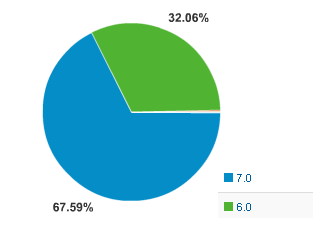 These figures show that the decline in IE6 usage is still slow. At this rate it will be another two or three years before IE6 usage drops to near zero! It's all rather depressing considering that IE6 was released in 2001.
Perhaps the imminent release of Internet Explorer 8 will persuade a few IE6 users to jump straight to the new version? I hope that corporate IT departments who remain on IE6 do the same thing.
Please… let's put IE6 to rest.
Note: The figures for the last few weeks since December 10th show that IE6 usage has now dipped below 30%.