Get your own Web 2.0 logo
I wrote this post a while back. The content can still be relevant but the information I've linked to may not be available.
There are many websites that are associated with 'Web 2.0' – and quite a few of them1 use a reflective text logo. Well, now you can get your own with the Web 2.0 Logo Creator.
The website is intended as a joke – but you can use it to generate your own logo if you want! Here's my attempt using my surname in Flickr mode…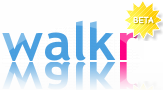 1 I'm not sure that reflective text is overused with Web 2.0 logos but judge for yourself: A comparison of Web 2.0 logos | Web 2.0 logos photoset on Flickr