Why I'm using Brackets as code editor
I wrote this post a while back. The content can still be relevant but the information I've linked to may not be available.
Well, I've been using Brackets as my main editor recently and I have to say that I really like it. In case you don't know, Brackets is an open source code editor for web designers and front-end developers. And I think it has some cool features, not to mention being fast and reliable.
The main things that I like about Brackets are the simple interface, the ability to just choose a folder as the "project", the default and subdued syntax highlighting, Live Preview, and the Quick Edit command.
More: The Brackets documentation has a good explanation of the main features.
I like Brackets' core editing features (autocomplete, tag closing, open files tab etc.) but it also has some additional stand-out features:
Inline
CSS

editing

The Quick Edit command is something I've not seen in any other code editor and it works like this. When editing an HTML document, put your cursor inside a class name (or an id), and click Ctrl/Cmd-E. The editor searches CSS files for the relevant rules and opens an inline editing window with the CSS rule ….. ready for editing. You can also add a new rule from the inline editor. This makes it dead easy to move round the style sheet and edit the CSS.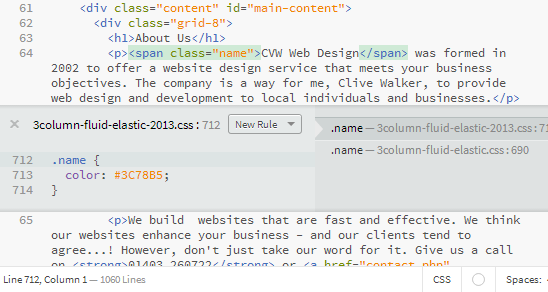 Live Preview
Brackets also has a Live Preview mode (that works with Chrome). When you click the Live Preview icon, a new Chrome window opens and any changes you make with the CSS or HTML are immediately reflected in the browser window. If you are working on a local server, you can also enter the server URL to get Live Preview working with that. Brackets will also highlight the specific page element in the browser window as you edit that element in the Brackets window.
And there's more…
Brackets has an Extensions system so it's easy to add more functionality (written by third party developers). For example, I've added Emmet to my installations because that adds abbreviation coding and some useful shortcuts.
FTP: Brackets doesn't have any default FTP functionality but that's not a deal-breaker for me. However, there is a Brackets FTP extension that adds basic FTP and SFTP integration.
Overall, I'm very happy with how Brackets works and I'm using it more and more. Try it yourself, it's well worth it!